5 Best International Payroll Services
Written by: Natalie Fell
Natalie is a writer with experience in operations, HR, and training & development within the software, healthcare, and financial services sectors.
Reviewed by: Daniel Eisner
Daniel Eisner is a payroll specialist with over a decade of practical experience in senior accounting positions.
Updated on July 14, 2023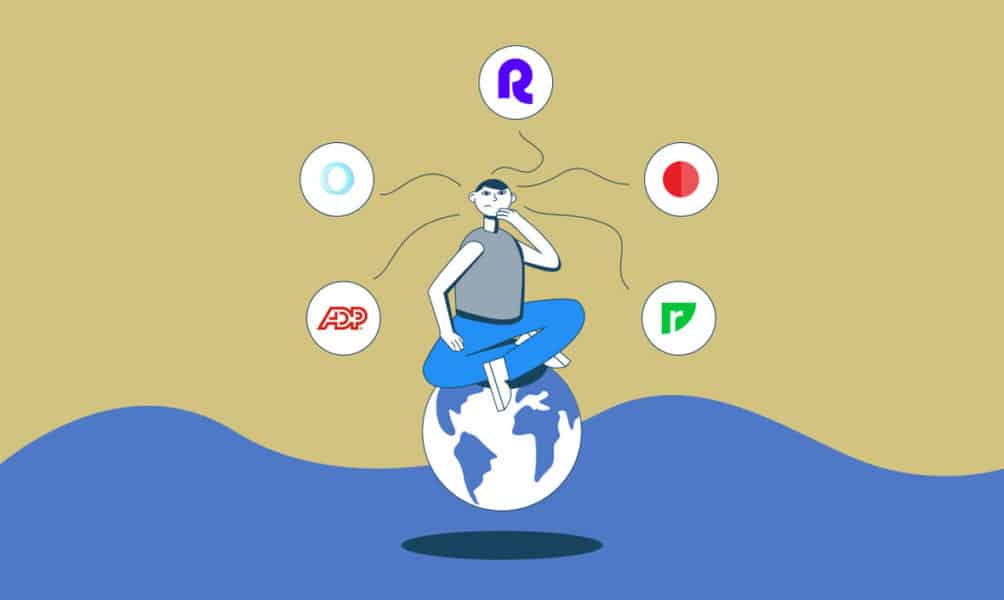 5 Best International Payroll Services
ADP Global Payroll
Globalization Partners
Remote
Papaya Global
Remofirst
If you run a global company with an international employee base, managing payroll is likely to be one of your first major hurdles. Dealing with payroll is often quite complex and time-consuming, which is why many employers turn to a professional payroll service.
International payroll providers can handle the entire payroll process for you, making it nearly seamless and automated. But with so many global payroll services in the market, how do you know which are the best for international employers? And which is the right choice for you?
This review takes a closer look — putting ourselves in the shoes of a global employer — to help you determine which option is the right payroll service for your business.
Best International Payroll Services
1. ADP Global Payroll
ADP Global Payroll, from leading payroll provider ADP Inc., is a comprehensive payroll solution for international businesses. It offers two different plans to choose from, depending on how many countries you have employees in and your business needs.
ADP Inc. has over 70 years of experience serving the world's top businesses. The firm specializes in worldwide compliance expertise, tracking everything from global government regulations to local laws.
Pricing and features
ADP Global Payroll offers two solutions for international businesses: Celergo and GlobalView.
Celergo is aimed at businesses with up to 1,000 employees per country. This payroll solution collects employee data into a single system and can help businesses feel like they're running payroll in just one country. Celergo also integrates with most business software tools.
GlobalView is for companies with more than 1,000 employees in at least one country. In addition to payroll processing, customers gain access to HR admin tools and reporting options. Employee self-service benefits are also included, as well as software integrations.
Businesses can combine GlobalView with the Celergo plan to extend payroll operations and combine features. Pricing for either plan can be obtained by requesting a quote.
Pros and Cons
Pros
Reliable, centralized system
Worldwide compliance expertise
Solid industry reputation
Cons
Lack of transparent pricing
Poor customer support
Our Verdict
Overall, our ADP Global Payroll experience was satisfactory. The website is less user-friendly than some competitors' and prices are not readily available. But ADP is one of the world's most respected payroll providers, so its expertise is tough to beat.
While ADP's international payroll solutions may not be for every business, we confidently recommend ADP Global Payroll to international employers.
2. Globalization Partners
Globalization Partners is a global firm that handles a wide variety of payroll and business tasks. Their plans include employee onboarding, and payroll tax and compliance. They also take care of local tax filing and compliance.
Globalization Partners supports payroll in 187 different countries. Their service plans are designed for businesses who pay both contractors and full-time employees. The company also offers a recruitment plan for companies interested in hiring international talent.
Pricing and features
Globalization Partners has three different services plans. Their G-P Contractor plan starts at $49 per month, per contractor, and enables international employers to hire, pay, and manage contractors all over the world.
The other two plans are custom-priced through the Globalization Partners Sales team. The G-P Employee plan utilizes a proprietary Global Employment Platform to help employers hire global staff and includes a broad range of HR and payroll support services. The G-P Recruit plan is an international recruitment platform that includes access to specialists to assist you with attracting and retaining talent.
Pros and Cons
Pros
Payroll processing in 187 countries

Local compliance and tax support

Great customer service
Cons
Lack of transparent pricing in some plans

Contracts requires two-month advance payroll deposit

No employee training & development features
Our Verdict
Overall, our experience with Globalization Partners was positive. They're known for their responsive customer support team and offer tools that support key payroll and employee management solutions for international business owners.
Although Globalization Partners offers leading-edge recruitment support, they lack training and development features. However, their customer service is superior to other competitors and we recommend their services to businesses looking to expand to other countries.
3. Remote
Remote provides international payroll, benefits, taxes, and compliance for global businesses of all sizes. Remote also offers a fair price guarantee, without commitments or hidden fees. The company also aims to be socially responsible and offers discounts to businesses who hire refugees, and to startups and nonprofits.
Pricing and features
Remote offers four distinct plans, two of which are transparently priced. The Contractor Management Plan costs $29 per contractor per month. Employers who choose this plan get onboarding support, payment in a contractor's local currency, and tax form support.
There is also an Employer of Record (EoR) plan** that includes full-service payroll processing, hiring and compliance support, and benefits administration. Pricing for the EoR plan depends which country a business operates in, as well as whether you choose monthly or annual payment. Business owners can expect to pay $299 to $699 per employee, per month.
The Global Payroll and Remote Enterprise plans are highly customized and offer more hands-on HR and payroll support. The Remote Enterprise plan comes with access to a dedicated representative. To obtain pricing, you'll need to request a quote.
**EoR services are significantly more expensive than standard payroll and HR solutions due to the level of service they provide. An EoR takes on the legal responsibility of employing employees; on paper, the EoR is legally listed as the primary employer of your workforce. Using an EoR minimizes many of the difficulties that come with employing and paying international staff.
Pros and Cons
Pros
Payroll support in over 170 countries

Affordable contractor plan

User-friendly website
Cons
No time tracking capabilities

Limited customer support (email only)

Lack of pricing transparency in some plans
Our Verdict
Our experience with Remote was pleasant. Their site is user-friendly and information is easy to find. They have a ton of helpful FAQs on their website that explain plan features in great detail. Their four plan options provide international businesses with a variety of support to choose from. We confidently recommend Remote for global payroll processing.
4. Papaya Global
Papaya Global aims to help busy international employers streamline their payroll processing and HR functions. Their payroll solution promises to sync all employee information into one simplified platform. With Papaya Global, employers can make payments in any currency, anytime, anywhere in over 160 countries. Their services are backed by a local compliance guarantee.
Pricing and features
Papaya Global offers three plan options: Payroll, Global EoR, and Contractor Management and Independent Contractor (IC) Compliance. Each plan includes comprehensive payroll processing, HR support, benefits management and administration, and local tax filing assistance.
All three plans include most of the same features, however they differ when it comes to third-party payment support and worker classification and compliance. The Worker classification & compliance check features are included in both the Global EoR and Contractor Management plans. Third-party payments are supported by both the Payroll and Global EoR plans, but not the Contractor Management plan.
The Papaya Global Payroll plan costs $20 per employee per month, while Global EoR costs $650 per employee per month. The Contractor Management plan costs $25 per employee per pay cycle. A note on the website says volume discounts are available.
Pros and Cons
Pros
Transparent pricing

Robust worker compliance support

Payroll support for over 160 countries
Cons
Number of employees and chosen services greatly impact pricing

HR support is lacking compared to competitors

No 24/7 customer service
Our Verdict
Overall, we were impressed with Papaya Global's online experience, as navigating the plan features and reviewing pricing was easy and straightforward. We also appreciated the transparent pricing and helpful plan descriptions.
Although Papaya Global does not have 24/7 customer service, reviews for their customer support were mostly positive. We recommend Papaya Global for companies looking for international payroll and HR support.
5. Remofirst
Remofirst is a platform built for companies to manage their international HR and hire remote employees. Founded in 2021, Remofirst is one of the newer international payroll services on the market. They are also a fully-remote team, claiming to understand the challenges their customers face and striving for continuous improvement.
Pricing and features
Remofirst offers two plans: an EoR plan for $199 per employee per month and a free plan for paying contractors.
The $199 per employee per month plan supports payroll processing in over 150 countries and helps companies streamline tax filings and employee pension plans. The plan also includes a contract creation feature along with onboarding and termination guidance.
Remofirst provides on-demand expertise on local rules and regulations so international businesses stay in compliance. Customers get access to benefits and health insurance as well as 24/7 customer support.
The free contractor plan allows businesses to quickly onboard new contractors and automate payments. It also features one-click invoice creation and a place to upload and store your contracts.
Pros and Cons
Pros
Free contractor plan

Support over 150 countries

24/7 customer support
Cons
No mobile app

Paid plan more expensive that some competitors

No time tracking capabilities
Our Verdict
Our experience with Remofirst was pleasant overall. Information was readily available on their site. Their pricing is also straightforward and their free contractor plan is a good value.
The Remofirst paid plan is a bit more expensive than some of its competitors, and offers fewer HR features. But if you're looking for a simple payroll solution for your global workforce, it could be a fine option. Based on our research and experience, we confidently recommend Remofirst.