Paycom vs Paychex Flex Comparison
Written by: Natalie Fell
Natalie is a writer with experience in operations, HR, and training & development within the software, healthcare, and financial services sectors.
Reviewed by: Daniel Eisner
Daniel Eisner is a payroll specialist with over a decade of practical experience in senior accounting positions.
Updated on July 14, 2023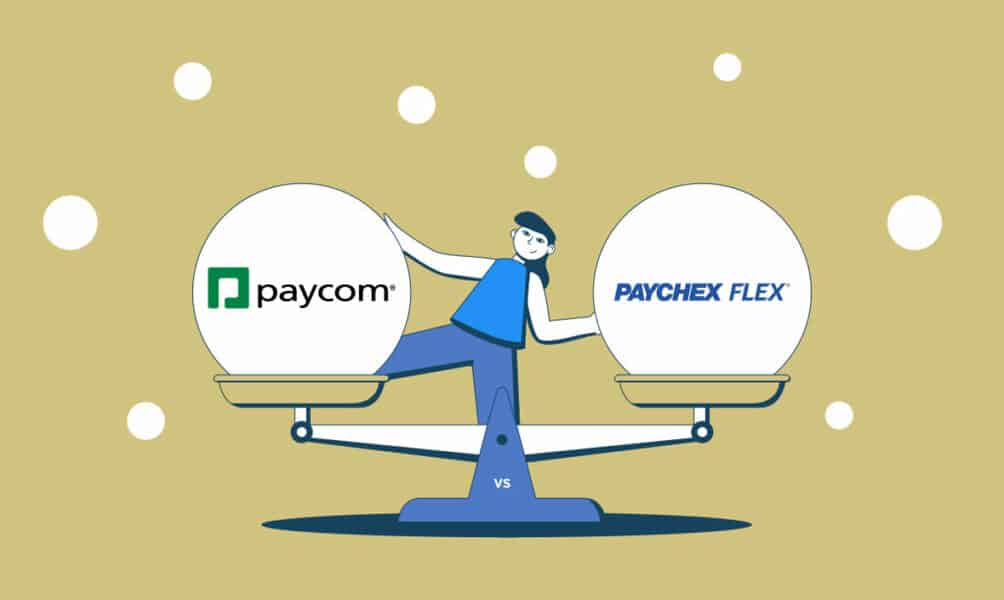 Paycom vs Paychex Flex Comparison
Pros and Cons
Features and Services Overview
Plans Pricing
Paycom Website Interface and Navigation
Paycom Customer Support
Paychex Website Interface and Navigation
Paychex Customer Support
Verdict
Our Approach
FAQs
Payroll is an absolutely crucial business process, and because it's often complex and tedious many entrepreneurs rely on a professional payroll service to do the job.
Two of the leading online services to consider are Paycom and Paychex Flex. To help you determine which is better, and which might be best for you and your business, we have thoroughly reviewed their services by putting ourselves in the shoes of an entrepreneur.
Read on to make the choice that will keep your business on the surest path to success.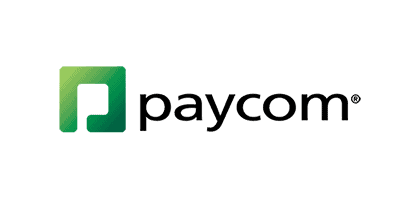 Suited for large businesses
All-in-one HR and payroll software solution
Offers many integrations with other tools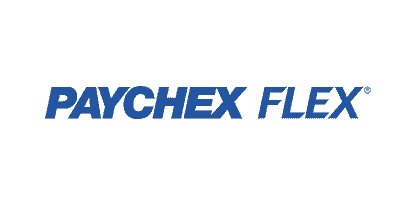 Suited for small businesses
Very easy and comprehensive payroll processing
Good navigation and interface
If you own a small business, Paychex Flex represents the better value, it's easier to manage your payroll and has more integration capabilities. We recommend Paycom to mid to large businesses that need HR and payroll solution.
Visit Paychex Flex
Pros and Cons
Paycom
Pros
All-in-one HR software solution
Extensive mobile app capabilities
Great customer support
User-friendly software design
Cons
Lack of transparent pricing
Limited integration options
Less useful for smaller businesses that need fewer services
Paychex Flex
Pros
User-friendly web experience
Informative, detailed website
Established industry reputation
Flex Essentials offers great value
Solid mobile capabilities
Cons
Poor customer service
Heavy upselling in sales process
Lack of pricing transparency
Difficult cancellation process
W-2 and 1099 filing costs extra
Features and Services Overview
Unlike most other payroll service providers, Paycom offers just one software solution that includes all of its HR and payroll tools. As detailed below, Paycom breaks its HR software application into five categories, with additional features and tools layered within.
Paychex Flex offers three different service levels, with the top two requiring pricing by quote. The base Essentials plan is for businesses with 1-9 employees. The higher-tier Select and Pro plans include enhanced features and more dedicated customer service.
Plans Pricing
Pricing for Paycom's services can be obtained by requesting a quote.
The Paychex Flex Essentials plan is $39 per month plus $5 per employee. Its middle-tier Paychex Flex Select Plan and top-tier Pro Plan are priced via quote.
Paycom Plan vs Paychex Flex Plans
Paycom offers a robust suite of payroll and HR service solutions, which can be packaged together in a custom plan depending on the size and scope of your organization. Paychex Flex offers one transparently-priced, basic Essentials Plan, along with two higher-tier plans (Select and Pro) that come with enhanced features.
| | Paycom | Paychex Flex |
| --- | --- | --- |
| Price | Custom | Essentials Plan - $39 per month plus $5 per employee per monthSelect & Pro Plans - Custom |
| Payroll service and tax filings | Included | Included |
| Garnishments | Included | Included |
| Customizable Reports | Included | Included |
| Talent Management | Included | Not Included |
| Mobile App | Included | Included |
| Direct deposit | Included | Included |
| New hire paperwork and onboarding | Included | Included |
| Customer Support | Included | Included |
| Employee Engagement Surveys | Included | Not Included |
| Time Tracking | Included | Can be added |
| Learning Management System (LMS) | Included | Included in Select and Pro Plans |
| Marketing Assistance | Not Included | Included |
Paycom Website Interface and Navigation
Paycom's site is user-friendly and contains a bounty of information. Users can explore Paycom's all-in-one software solution and have access to more in-depth information about the different services.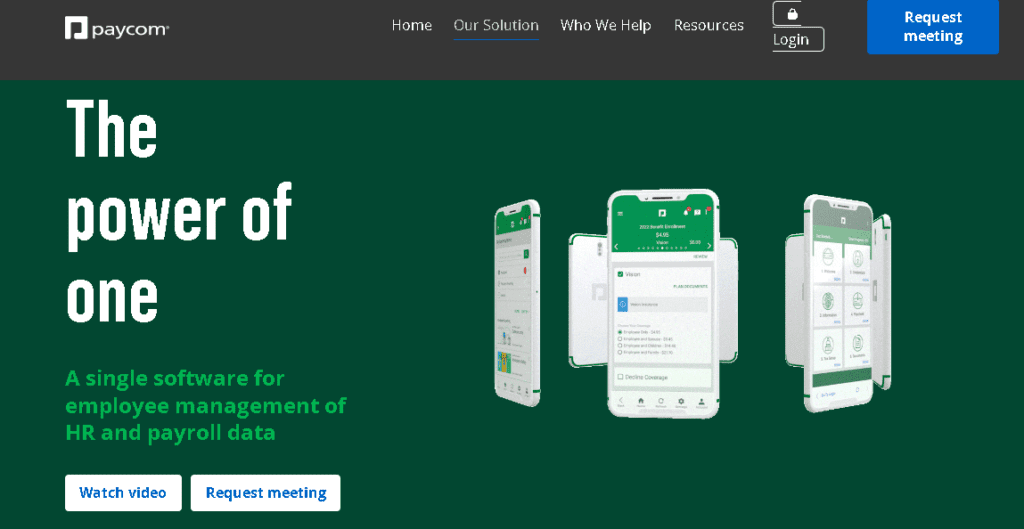 Paycom makes it easy for potential customers to investigate their five main categories.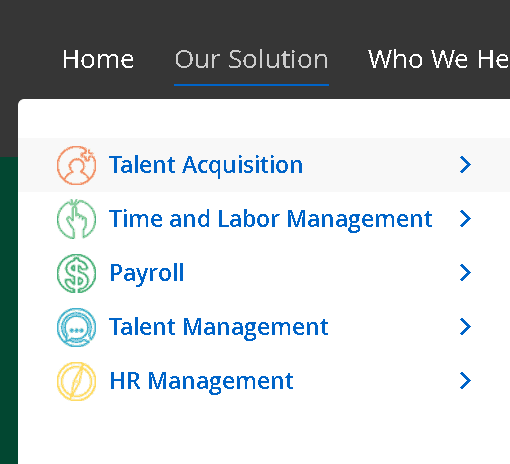 Users can also analyze the tools available within each of Paycom's software service categories.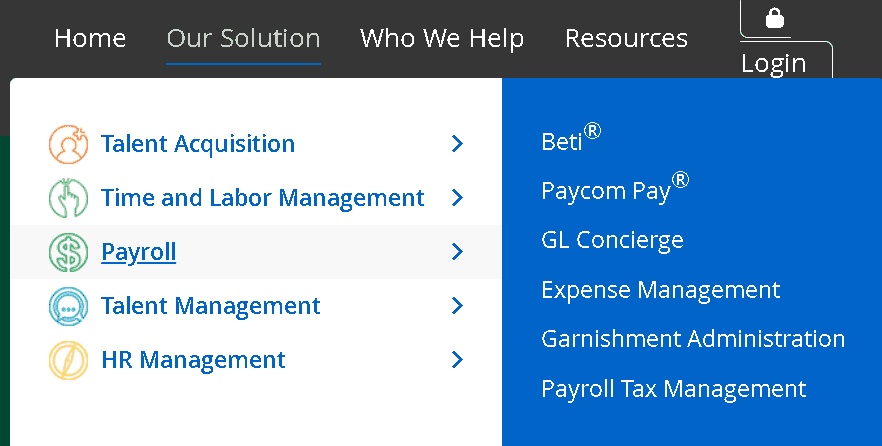 Overall, we were impressed by the website's design and organization. It's laid out well and easy to understand. The site also includes a robust collection of resources and information.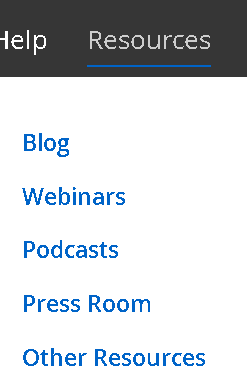 Our only complaint is that Paycom does not make prices readily available on the website. However, this is not uncommon with payroll service providers as the total cost often varies from one company to another.
How's the signup process navigation?
In order to get a price quote from Paycom, you must first request a meeting. This can be done on Paycom's homepage, as detailed in the screenshot below.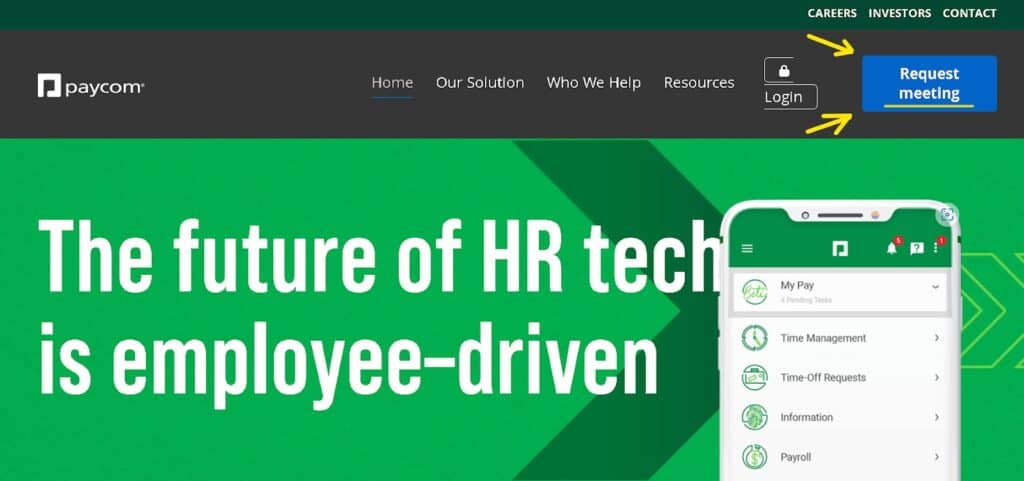 When you click the button to request a meeting, you'll be taken to a page asking you to fill out a form with details about you and your business. You'll need the following information:
Your business's name
Your name
Your position at the business
Your work email
Number of employees
Business zip code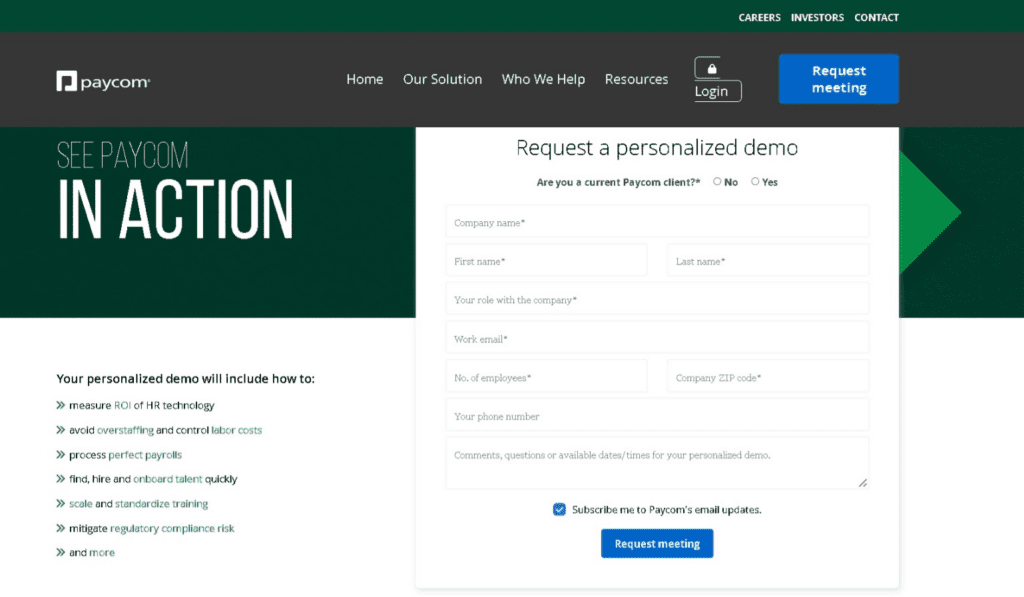 After you submit your request, you should receive an email outlining the next steps.
How's the mobile experience?
Paycom has a mobile app that enables client employees to clock in and out, allocate their work, review accrued paid time off and more. The mobile application also supports modifying personnel information, submitting time sheets, previewing take-home pay, reviewing past paychecks, and more.
In Summary
The site is user-friendly and information is easy to find. If you have all your information handy, you can request a meeting with Paycom in less than five minutes.
Even though no prices are listed on the site and the meeting request button is on every page, Paycom's call to action is not intrusive. Rather, the website is more focused on providing users with information about their services and how Paycom can help them.
Paycom offers a strong user experience, though customer support is limited.
Paycom Customer Support
Paycom's website does not offer chat support, and after a diligent search, we were unable to find any email addresses. We did, however, find multiple telephone numbers for Paycom, including a general inquiries number and numbers for Paycom offices in 28 states.
We tested Paycom's phone support feature, as detailed below.
Phone support
We called Paycom's customer support and asked the service representative if employees are able to change their personal information on their own. The representative was very kind and assured us that Paycom's software enables employees to update their information as needed.

Support Rating:
Response time:
Paychex Website Interface and Navigation
The site is user-friendly and plans are easy to find, with good detail on features. You can even get more information on each individual service. It's laid out well and easy to understand.
Pricing is a bit trickier to navigate, as you must request a quote for the Select and Pro plans. The site has a robust help center where you can get information on a variety of topics.
How's the signup process navigation?
While you're unable to sign up for the Select and Pro plans without contacting a representative and obtaining a quote, you can go ahead and register for the base Essentials plan.
To start the signup process for the Flex Essentials plan, click Sign Up Online. The next screen will prompt you to enter your contact information.
There's also an informative video about the plan on the right side of the page, along with a summary of the plan's benefits. Next, enter your company information and EIN and confirm your plan selection.
You'll be reminded that you won't pay anything until your first payroll run. You will also get to see a cost breakdown before finalizing your choice. The last step asks if you'd like to sign up for free services from third-party providers.
Make your selections and click Complete Sign Up at the bottom of the screen.
How's the mobile experience?
The Paychex Flex platform is extremely mobile-friendly, with several apps available for both employers and employees. When you sign up for a Paychex Flex account, you get access to the Paychex Flex App.
This app connects employers to vital payroll and benefits features with the security of Touch-ID and Face ID authentication. The Paychex Flex App also allows employers to enter, review, and submit payroll and access employee data and reports, while employees can access and update their information.
Other apps are tied to different Paychex solutions, such as timekeeping and employee benefits.
In Summary
Overall, the Paychex website is extremely user-friendly, with easy to follow navigation and seamless sign-up for the Essentials plan. Information about each plan is easy to find and explained in great detail.
There are also informative videos throughout the website to further explain plans and benefits. The only downside is that pricing for the Select and Pro plans is custom, and thus not presented on the site. However, there are several opportunities to request a quote.
Paychex Customer Support
We tested all three forms of Paychex Flex customer support, as detailed below.
Chat support
Our initial experience with the Paychex Flex chatbot redirected us back to the Paychex website.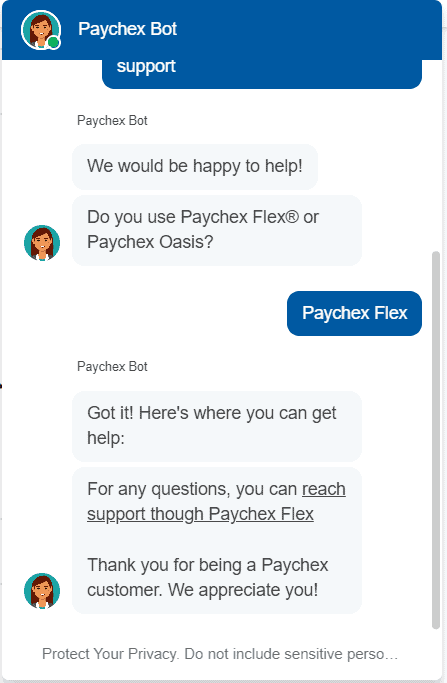 We probed a bit further and were able to start chatting with a live agent. We asked about the cancellation policy and they said we could get that information from the sales team.
We asked if there was a chat feature available to speak with the sales team, and the agent said "not that I know of" and asked for our first and last name to have someone reach out to us. We closed the chat session without receiving an answer to our question.
Support Rating:
Response time:
Email support
We hoped to email Paychex to ask about the cancellation policy, since we weren't able to get very far with the chat feature. Because we had been directed to the sales team, we figured we would try emailing them directly.
But when you click the "Email us" button under sales support, you're prompted to request a quote, which is not what we wanted to do.
We also tried another support email button, but it was for existing customers and we were prompted to enter a client ID number to proceed. Overall, the process to contact a representative for general questions was difficult, to say the least.

Support Rating:
Response time:
Phone support
We called Paychex Flex customer service to ask if we could get an estimate on pricing for the Select and Pro plans. We had to go through a series of prompts before being placed on hold for several minutes.
After connecting, the representative was polite and told us we would have to request a quote with the sales team, as pricing depends on the size of our company. They offered to transfer us to a sales representative, but we thanked them and declined.

Support Rating:
Response time:
In Summary
Overall, the Paychex website is extremely user-friendly, with easy to follow navigation and a seamless sign-up process for the Essentials plan. Information about each plan is easy to find and explained in great detail.
The downside was that opportunities to interact with customer service are rather limited, as the chatbot was minimally helpful and it took some time to connect with a live agent. We also could not find an email support option for prospective customers. However, our experience with the Paychex phone support was sufficient and on par with the competition.
Paycom Accounting
For accounting purposes, Paycom is a robust service with highly customizable plans.
The best way to sum up Paycom's accounting offerings is that we wish our company was large enough to make use of the entire feature. Though individual tools can be used a la carte, going all-in on the full package is the most cost-efficient option.
This provider is well suited to businesses with multiple departments and over 100 employees.
Paychex Flex
For accounting purposes, Paychex is a reliable service.
If your company has a diverse and changing payroll, Paychex is a solid option. But you will likely need a responsible, tech savvy team to operate it, as access is hard to limit: all those able to login will have the full range of payroll actions at their fingertips.
If you can get past the initial access and setup hurdles, the options to adjust payroll detail are excellent for companies that have a frequently changing payroll.
Verdict
After a thorough assessment, we have determined that Paychex Flex offers the better value and broader service offerings. By choosing Paychex Flex, you'll save money and have access to better customer service.
The main advantage of Paycom is that they are a full-service payroll and HR service provider. If you are a larger business willing to make a significant investment in a comprehensive product, Paycom may suit your needs.
Our Approach
As a leading human resources advisory site, we take our responsibilities seriously. We understand that countless entrepreneurs, and potential entrepreneurs, rely on our judgments and insights, particularly when it comes to managing their business.
As a result, our writers do their utmost to gain a comprehensive understanding of the services offered and the actual customer experience. In this case, we:
Examined every single page of both the Paycom and Paychex Flex websites
Reviewed all of their offerings
Put ourselves in the customer's shoes, creating accounts
Communicated with customer service via chat, email and phone
Gained a full understanding of the customer experience and service value
Thanks to this full immersion in the actual customer experience, our reviewer and team are able to provide the most complete and insightful comparison of Paycom and Paychex Flex payroll services.
FAQs
Why should I use a payroll service?
A payroll service handles the payroll process for you, making it nearly seamless and automated while offering additional services that can make life easier for a business owner. The service takes care of all the red tape so you can focus on building a successful business. 
What types of services does Paycom's software provide businesses?
Paycom's all-inclusive HR software application provides businesses with talent acquisition services, time and labor management services, payroll services, talent management services, and HR management services.
What tools are included in Paycom's Payroll Service software solution?
Paycom's Payroll Service solution includes six different tools: Beti, Paycom Pay, GL Concierge, Expense Management, Garnishment Administration, and Payroll Tax Management. 
Can Paycom help with onboarding and hiring?
Paycom assists businesses with the hiring process by providing tools for applicant tracking, e-verification, background checks, and the verification of candidate eligibility. Companies can also enable self-onboarding capabilities for new hires, along with checklists and reminders for new employees.
What's included in the Paychex Flex Essentials plan?
The Paychex Flex Essentials plan includes online payroll and tax filing, access to a mobile app, and payroll tax administration. It also includes an HR library and business forms repository.

What do payroll services with Paychex Flex include?
Payroll services from Paychex Flex include comprehensive payroll processing, payroll reporting capabilities, and tax filing. You can also have your W2s and 1099s filed and processed at an additional cost.
What hiring and onboarding tools does Paychex Flex offer?
Each of the Paychex Flex payroll plans comes with a robust offering of employee resources. The Essentials plan includes a self-service human resources library and business forms repository. The Select plan includes access to the Paycheck e-learning platform. The Pro plan includes access to the Paychex Flex Onboarding Essentials, Paychex Employee Screening Essentials for efficient background check processing, and the Employee Handbook Builder.