5 Best Payroll Card Providers
Written by: Coralee Bechteler
Coralee is a business writer with experience in administrative services, education, and software testing.
Reviewed by: Daniel Eisner
Daniel Eisner is a payroll specialist with over a decade of practical experience in senior accounting positions.
Updated on March 9, 2023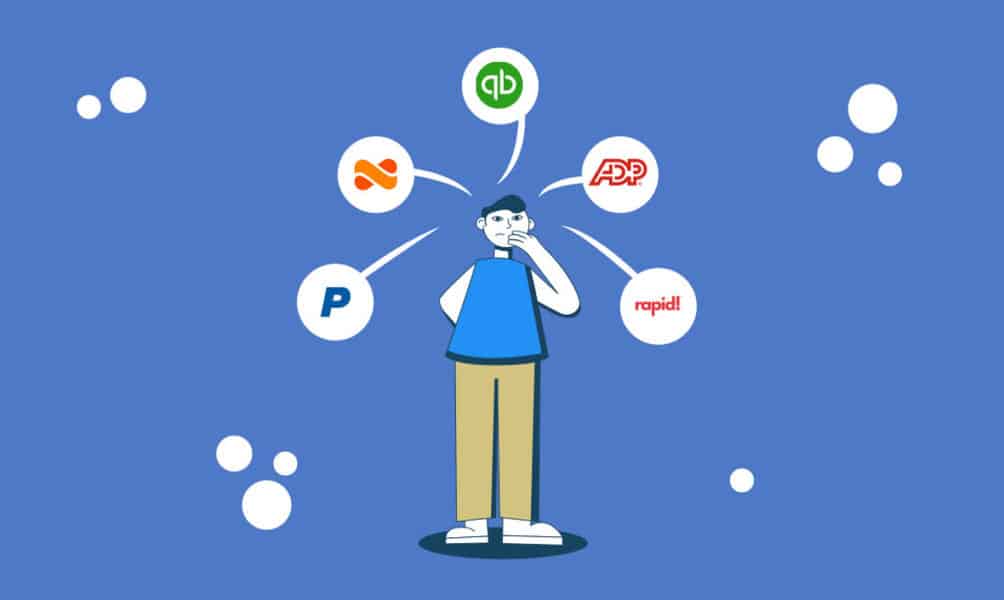 5 Best Payroll Card Providers
Intuit (QuickBooks)
Skylight ONE (Netspend)
Paychex
Wisely Pay (ADP)
rapid! (Green Dot Corporation)
Conclusion
If you're starting a small business and hiring employees, mastering payroll is likely to be one of your first major hurdles. Dealing with payroll is often quite complex and time-consuming, especially when there are different compensation methods employees can choose from.
With some employees receiving paper paychecks and others choosing direct deposit, payroll can get confusing pretty quickly. As a result, many entrepreneurs turn to a professional payroll provider, which can handle the entire payroll process, making it nearly seamless and automated.
Some payroll services enable their clients to pay employees via payroll cards. In addition, some non-payroll provider companies also provide payroll card services, without a payroll service bundle.
Payroll cards function much like debit cards and offer a third payment method, besides direct deposit and paychecks. The way it works is simple: after every pay period, the employer deposits an employee's wages onto a prepaid card.
But with so many payroll card providers in the market, how do you know which is the best? Or which is the right choice for you? This review takes a closer look — putting ourselves in the shoes of an entrepreneur — to help you determine which option is right for your business.
1. Intuit (QuickBooks)
When most people think of QuickBooks, they probably think of accounting software and related applications, like Intuit QuickBooks and QuickBooks desktop. However, Intuit also offers businesses the ability to pay employees via a payroll card.
In fact, Intuit offers its customers two payroll card options: Credit Karma and TurboTax. Inuit is the parent of TurboTax, and in 2020 Intuit acquired Credit Karma, integrating their payroll system with Credit Karma's money experience, Credit Karma Money Spend, in 2021.
Pricing and Features
Credit Karma
Credit Karma Money is a money experience with two major services:
Credit Karma Money Save: for opening a high-yield savings account
Credit Karma Money Spend: for opening a checking account
Businesses seeking payroll cards for employee compensation should focus on Credit Karma's Money Spend accounts. Similar to the direct deposit of a paycheck into an employee's bank account, employers can establish the direct deposit of wages directly into an employee's Money Spend account.
These accounts are free to open with no initial deposit or minimum balance requirements. A Credit Karma Money Spend account assures users of no overdraft fees, no hidden fees, and no penalties. Additionally, employees gain access to their paychecks up to two days before payday, available at more than 50,000 ATMs with no service charges.
TurboTax
TurboTax offers businesses the Turbo Visa Debit Card, which allows employers to directly deposit employee wages. Unlike Credit Karma Money Spend, Turbo Visa Debit Card carries various fees.
Use fee: $4.95/month

Unless you deposited at least $1,000 during the previous month

ATM withdrawal outside of approved network: $2.50/transaction
ATM balance inquiry outside of approved network: $0.50/transaction
Cash withdrawal at a financial institution: $2.50/transaction
Replacement card: $5
QuickBooks Payroll Service Plans
QuickBooks offers three different payroll service packages, and each plan includes full-service payroll functionality and features. All you need to do is choose the plan that makes the most sense for your business needs. We've provided a rundown of each of the plans for you to review below.
The Core plan, at $45 per month plus $5 per employee per month, includes W-2s and 1099s, and tax filings. Payroll and tax filings are done automatically. The plan also administers 401K and health insurance plans.
The Core plan provides a lot of bang for your buck, especially for small companies that just want payroll handled and to offer their employees benefits.
The Premium plan, at $75 per month plus $8 per employee per month, has the added benefits of same-day direct deposit and time tracking on the go, enabling employers to track and approve employee hours from a mobile app.
With the Premium plan, you'll have access to an HR support center and workers' compensation administration. For a minimal amount more, you'll receive several extra benefits, making the Premium plan a good value.
The Elite plan, at $125 per month plus $10 per employee per month, has the unique benefit of tax penalty protection: if you're charged a fee for late tax filings, QuickBooks will cover it up to $25,000, subject to terms and conditions. You'll also have a personal HR advisor.
Pros and Cons
Pros
Two different payroll card options
Payroll services are a great value
Credit Karma Money Spend means minimal fees
Website is easy to use
Great mobile app
Cons
Customer service options are lacking
Turbo Visa Debit Card presents multiple fees
Unlike competitors, poor HR support
Our Verdict
Overall, the Intuit QuickBooks site is easy to use and detailed plan information is easy to find. Information regarding their payroll cards is harder to find, but after some digging we managed to find some helpful community posts discussing employee pay cards. We found more readily available information about Credit Karma's payroll card service than for TurboTax's pay card.
Moreover, the majority of the information about the Turbo Visa Debit Card was outdated with links that didn't work. Reading through the comments in several community discussions, we concluded that we weren't the only ones frustrated. Customers lamented the absence of accurate information about Turbo's pay card and the poor customer support from QuickBooks.
Intuit QuickBooks' payroll plans are well priced and offer good value for small businesses, and Quickbooks also offers an excellent mobile app for business owners. We additionally liked that all the plans include health insurance and 401K administration.
QuickBooks has the advantage of its name – most people are familiar with it – and a lot of customers, so we can tentatively assume that many have had a good experience with its services and software.
Because of the great value delivered to employees using a payroll card via a Credit Karma Money Spend account, as well as Intuit's valuable payroll plans, we cautiously recommend these services to businesses willing to pay a little more for quality.
2. Skylight ONE (Netspend)
Netspend has been providing payroll cards and alternative payment methods since 1999 and, according to its website, serves around 68 million customers.
Netspend offers the Skylight PayOptions program, a solution that provides payroll services and enables employers to use prepaid payroll cards to pay employees.
Pricing and Features
Netspend's Skylight PayOptions service includes payroll execution, compensation via payroll cards, pay card onboarding integrations, a mobile app with 24/7 access, balance alerts, and cashback rewards.
Employees can even get paid up to two days before payday when wages are directly deposited onto a pay card. Additionally, business owners and their employees can access phone customer support seven days a week.
Netspend offers two different pay card options: the Skylight ONE Visa Prepaid Card and the Skylight ONE Prepaid Mastercard. The only difference between the two is the partner financial institution (Visa or Mastercard). Fees are the same for both cards.
Netspend presents three different payment options for their payroll card service:
The Monthly Plan
The Pay-As-You-Go Plan
The Netspend Premier plan
The Monthly Plan
The Monthly Plan is free to open with no initial deposit requirements and unlimited transactions, but it does carry a monthly charge of $9.95. Paying for Netspend's Monthly Plan also carries additional pay card fees:
ATM withdrawal fee: $2.95/transaction
Cash reload fee: up to $3.95/reload
ATM balance inquiry: $0.50
Account inactivity: $5.95/month after 90 days of inactivity
Replacement card: $9.95
This plan is great for businesses with employees who use their pay card often.
The Pay-As-You-Go Plan
This plan doesn't charge customers a monthly fee, which is perfect for businesses with employees that are unsure how often they'll use their payroll card. We've provided the pay card use fees below:
Purchase fee: $1.95/transaction
ATM withdrawal fee: $2.95/transaction
Cash reload fee: up to $3.95/reload
ATM balance inquiry fee: $0.50
Account inactivity fee: $5.95/month after 90 days of inactivity
Replacement card fee: $9.95
Cash withdrawal at a financial institution fee: the larger of the following:

1% of the funds withdrawn, up to $9.95
OR
The Netspend Premier plan
The Netspend Premier plan is only available for employees that meet the following eligibility requirements:
The employee is enrolled in Netspend's Monthly Plan
The employee is compensated via direct deposit
The employee must have received at least $500 in benefits (via their employer or via the government) in one calendar month
Qualifying employees are automatically enrolled in the Netspend Premier plan, which is linked to what Netspend refers to as their Reduced Monthly Plan. Customers reap the following benefits:
A smaller monthly bill of $5 (instead of $9.95)
A $10 balance cushion

This means if you overdraft your card within $10, Netspend will help cover the deficit and deduct it the next time your pay card is loaded

A customized pay card at no additional cost
Transaction email and text alerts
Pros and Cons
Pros
Payment plan options
Mobile app 
Automatic enrollment in Netspend Premier plan for qualifying employees
Option between a Visa or Mastercard pay card
Cons
Charges cash loading fees, while many competitors do not
Payroll card inactivity charges
Charges purchase fees under the Pay-As-You-Go Plan, while many competitors do not
Our Verdict
Netspend's Skylight ONE Visa and Mastercard payroll cards provide customers with pay cards that can be used anywhere that accepts Visa and Mastercard payments, which is practically everywhere. This means employees can use their Skylight ONE card to easily pay bills and expenses.
While this feature is extremely advantageous, we found the numerous fees associated with Skylight ONE to be a little problemati. As a result, we recommend Skylight ONE's payroll card to businesses that are willing to spend a bit more.
3. Paychex
Paychex is one of the country's top providers of payroll solutions – and according to its website, issues pay to one out of 12 U.S. private sector employees.
Paychex Flex is a suite of three payroll processing plans that aim to satisfy a wide variety of business types and needs. One of the key benefits for small and mid-sized businesses that pay for Paychex services is its payroll card.
Other key benefits include running payroll via an online platform or free mobile app, 24/7 customer support, and total calculation and payment of payroll taxes.
Pricing and Features
Paychex offers three different payroll packages:
Paychex Flex Essentials
Paychex Flex Select
Paychex Flex Pro
For no additional charge, businesses can add payroll card services to their Paychex Flex plan, allowing employers to deposit employee wages directly onto a prepaid card. Below, we outline the other services included in each of the Paychex Flex plans.
Paychex Flex Essentials is the lowest-tier plan and tailored to businesses with 1-9 employees. This plan includes payroll tax calculations and filings with federal, state, and local bodies.
With the standard analytics and reporting, you can review payroll reports and make changes as needed prior to submitting payroll. Paychex Flex Essentials contains a robust suite of offerings that center around the employee experience, such as an included HR library and business forms repository.
Paychex Flex Select is the second-tier payroll package and includes everything above plus a number of features, such as more payment options for your employees. In addition to direct deposit and paper checks, Flex Select offers check signing and a check logo service to subscribers.
Another key feature is access to the Paychex Learning Management System, which offers courses to help employees stay engaged and focused and boost retention.
The top-tier Paychex Flex Pro plan includes all the benefits above plus access to a dedicated payroll specialist. Business owners and payroll processors are assigned a single point of contact for both payroll and tax-related matters.
Paychex Flex Pro provides companies with guided setup to ensure you start on the right foot. You'll also be able to integrate Paychex with your existing accounting software, including QuickBooks Online, Sage Intacct, and Xero.
Pros and Cons
Pros
User-friendly web experience
Payroll card service available with all plans for no additional cost
Informative, detailed website
Established industry reputation 
Flex Essentials offers excellent value
Solid mobile capabilities
Cons
Poor customer service
Lack of pricing transparency 
Difficult cancellation process
W-2 and 1099 filing costs extra  
Our Verdict
Overall, we have mixed feelings about Paychex Flex. On a positive note, their website is easy to use and presents loads of information on plans and benefits. Businesses can even add paycard services to their package without additional fees.
However, Paychex' customer service left much to be desired. For one thing, the initial customer service rep we dealt with could not answer our questions. Also, the high number of complaints about specialist turnover and cancellation issues is troubling.
Overall, Paychex has been around for years, gaining the trust of companies across the country. Moreover, Paychex offers businesses the opportunity to add paycard services to their payroll plan without any auxiliary expenses – an advantage that makes Paychex stand out from competitors. As a result, we recommend Paychex as a payroll card provider.
4. Wisely Pay (ADP)
Automatic Data Processing, more commonly known as ADP, is one of the biggest names in payroll processing and counts many Fortune 500 firms among its clients. While its central platform serves those larger businesses, ADP's RUN service is tailored for startups and companies with 50 or fewer employees.
For no extra initial charge, businesses can sign up for ADP's trademark paycard service: Wisely Pay. This allows employers to deposit employee wages directly onto a prepaid card. However, use of a Wisely Pay card carries certain supplementary fees.
Pricing and Features
Wisely Pay
Employees that opt to receive their compensation via a Wisely Pay card are able to open an account for free, no minimum balance required. Additionally, Wisely Pay charges no monthly usage fees. Nor will employees face overdraft fees because Wisely bars users from spending more money than the amount on the card.
Wisely Pay sets itself apart from competitors by offering up to three additional pay cards for employee family members at no extra cost. However, there are certain fees for utilizing certain features.
Cash loading fee for funds between $20 and $500:

At participating locations of ADP's Reload @ the Register program: $4.95/load
At non-participating locations: $5.95/load

Cash reloading fees via:

Western Union: $3.95/load
Green Dot: $5.95/load
A mobile check cashing service: 5% of check total

Non-participating ATM withdrawal fee: $3.50/transaction
International ATM withdrawal fee: $3.50/transaction
ATM withdrawal decline fee: $1/declined transaction
International transaction fee: 3% of withdrawal total
International bank withdrawal fee:2% of withdrawal total
Card replacement fee: one free card replacement each calendar year

Additional card replacement fee: $6
Expedited card delivery fee: $24
Overnight card delivery fee: $35

Account inactivity fee: $4/month after 90 days of inactivity
Note that there are additional factors that can influence these fees, such as state regulations. For example, Connecticut and Illinois waive the first two ATM decline fees every month. ADP recommends that Wisely Pay card users log into their account to access their personalized Wisely Pay list of fees.
ADP RUN Plans
As previously stated, ADP's Wisely Pay card service can be added to all of ADP's RUN suite of payroll solutions for free. We've outlined the other key services included in ADP's payroll plans below, but it's important to remember that all of ADP's RUN plans are custom priced based on the size and needs of the company.
The ADP RUN Essential plan is meant for startups or established businesses looking for a basic payroll solution. The Essential package includes a robust suite of services, including access to an online portal and mobile app, 24/7 customer support, and payroll tax filing. You'll also be able to run electronic reports and access a new hire reporting feature.
The Enhanced plan from ADP includes everything from the Essential plan plus background checks, access to services from ZipRecruiter, and state unemployment insurance filings. You'll also get poster compliance services to ensure both the latest state and federal guidelines are always prominently displayed at your workplace.
The ADP RUN Complete plan contains all the benefits detailed above, plus a variety of HR support services and features. Customers receive access to an HR HelpDesk with live support and an employee handbook wizard.
Another key feature of the Complete plan is access to salary benchmarks so you can stay up to date on the latest compensation data. This plan also includes access to a regularly updated compliance database and an HR forms and documents repository.
HR Pro is ADP RUN's top plan and includes everything from the other three plans plus an enhanced version of HR HelpDesk Support and enhanced employee handbook support. It also includes access to ADP's proactive HR support team, an employee assistance program, employee and employer HR training, business marketing tools, and legal services.
Pros and Cons
Pros
Established reputation of ADP
User-friendly website
No monthly payroll card subscription fees
No service fee for making purchases 
myWisely mobile app
Cons
Expensive pay card service-usage fees 
Plan pricing is available by quote only
Many unhappy customers 
Complaints about the payroll card product
Our Verdict
This was a tough decision. Overall, we were pleased with our ADP experience. The site is easy to use, information is readily available, and it's very easy to request a quote. Their four service plans offer a wide variety of features, and it's free to set up employee payroll cards.
However, the service fees linked to the Wisely Pay card are expensive compared to competitors. Furthermore, several negative one- and two-star reviews involve Wisely Pay. Customers complain of transaction disputes, card freezes, and poor customer service. As a result, we do not recommend ADP's Wisely Pay payroll card.
5. rapid! (Green Dot Corporation)
rapid! is a subsidiary of the Green Dot Corporation and thus part of its mission to deliver accessible, affordable financial solutions to the every-day consumer.
rapid! is a payment platform that supplies businesses with several different payment tools and services. Employees get to select the method in which they receive their regular payment, which are:
Cash pickup at participating retail locations
ACH direct deposit
Instant deposits to:

Bank accounts
Payroll cards
Prepaid debit cards
Pricing and Features
Though the use of a rapid! PayCard includes many services that can be utilized at no charge, there are some additional fees for certain uses of the PayCard, including:
Declined card-purchase fee: $0.50/transaction
International debit purchase: $1.00/transaction
ATM withdrawal fee: $1.50/transaction
ATM balance inquiry: $0.75/transaction
ATM card decline: $0.75/transaction
International ATM withdrawal fee: $3.50/transaction
International ATM balance inquiry: $1.00/transaction
International ATM card decline: $1.00/transaction
Card-to-card transfer fee: $1.00/transaction
ACH-to-bank-account transfer fee: $1.50/transaction
Check request: $2.99/request
Bill payment fee: $0.99/transaction
Account inactivity fee: $4.95/month after 6 months without use
Replacement card:

Employer issued: $5/replacement
Mailed to employee's home: $10.00

Mailed account statement to employee's home:

One free statement/month
Additional statements: $1.50/statement
Pros and Cons
Pros
No included employer fees to use PayCard program 
Mobile application
PayCard is FDIC insured
All-inclusive payroll platform
Cons
Poor customer support
Charges a fee every time you pay a bill
Many reviews complain of withheld employee payments
Our Verdict
Although the rapid! platform offers several payroll solutions that can provide great value, using the rapid! PayCard presents many corresponding fees. We find the $0.99 fee for every bill payment to be counterintuitive and discouraging to employees.
When we took a close look at rapid!'s reviews with the Better Business Bureau, we were disappointed to discover that all 34 customer reviews left a one-star rating. Moreover, many of the reviews described employees struggling to receive payment and gain access to their funds.
As a result, we do not recommend rapid!'s payroll card services.
Conclusion
The importance of selecting the right payroll card provider for your business is hard to overstate. Selecting a bad provider can lead to pay disputes, added fees and even tax penalties, while selecting a good provider will reduce stress and boost staff morale – and maybe even increase productivity!
So be sure to take your time and make the best choice for your business.