How Do Recruitment Agencies Work?
Written by: Talia Knowles
Talia Knowles is an avid reader, writer, and coffee enthusiast, with over five years of experience in writing and editing.
Reviewed by: Keca Ward
As a seasoned HR professional with over 20 years of experience, Keca is an expert in various aspects of Human Resources.
Updated on September 29, 2023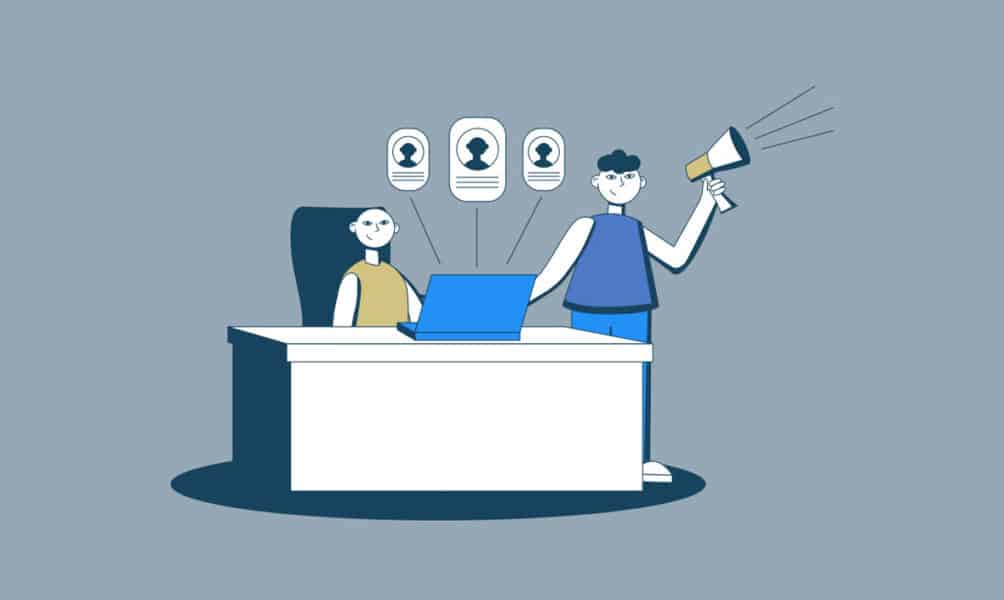 How Do Recruitment Agencies Work?
Understanding the Recruitment Agency Landscape
Different Kinds of Recruitment Agencies
How Do Hiring Agencies Operate?
Conclusion
FAQs
The to-do list for employers can seem never-ending, especially for small business owners. Keeping a business staffed with qualified employees is a challenging but vital task, and it can be difficult to achieve hiring goals without outside help.
That's where a recruitment agency comes in. Recruitment agencies allow employers to outsource the effort of identifying, vetting, and onboarding new employees.
Recruiting is a complicated process that requires a high degree of expertise. When a business hires a recruitment agency, they buy access to top-level recruiting insights and strategies and trust these professionals to bring fresh talent on board.
Understanding the Recruitment Agency Landscape
Just as different kinds of businesses have different hiring needs, there are various kinds of recruiting agencies with their own specialties.
Employing the services of a recruitment agency will yield a majority of benefits, but there are also some potential drawbacks.
First, no recruitment agency can have an entirely accurate understanding of your company culture, and someone from your organization will always have a better perception of cultural fit. 
Also, recruiting agencies can be more expensive than using an internal recruiter. It's likely you'll have less control over how much you pay for talent marketing and other recruiting strategies, which does not allow you to tailor your methods to your particular hiring needs. 
Different Kinds of Recruitment Agencies
As with any business that provides a specific service, recruitment agencies can be categorized by several different factors.
They may cater to a certain kind of candidate or differentiate themselves by how they charge for their services. The categories below are not mutually exclusive but can help you consider what services you'd like from an agency.
Retained Search Recruitment Firms
Retained search recruitment firms charge for their services upfront and work independently to fill a role. Sometimes referred to as "headhunting" firms, retained search recruiters tend to contact people who already hold similar positions.
They'll conduct an intensive search of qualified candidates and present a shortlist to the employer before coordinating interviews. Though you'll be charged whether or not they find a new employee, retained search recruitment firms tend to be extremely efficient and have a high success rate.
Contingency Search Firms
A contingency search firm uses a different payment method than a retained search firm. In this case, payment is ultimately "contingent" upon whether the firm successfully finds a candidate to fill the vacancy.
Since contingency search firms don't require payment upfront, many businesses will use them alongside their own internal recruiting efforts or even employ two contingency search firms at once.
RPO (Recruitment Process Outsourcing) Companies
RPO companies allow a business to outsource all elements of its recruiting process to an external organization. Therefore, RPOs can provide sourcing, recruiting, talent marketing, screening, written offers, interview services, and onboarding.
An employer may choose to utilize these services either full-scale or on-demand. A perk of using an RPO is their ability to collaborate with your organization to define and work toward recruiting goals.
Once an RPO provider shares your vision for staffing, they won't require much oversight. They can also collaborate with your staff or make use of other resources if necessary.
Additionally, when you agree to a partnership with an RPO, they take ownership of the strategy and outcome of your recruitment process.
This makes them a good option for businesses that want to improve their recruitment process. If you only need to fill a few roles, a different kind of recruiting agency may be a better fit.  
Temp Agency
A temp, or temporary, agency helps organizations fill short-term roles.
Think of a department store around the holidays. They suddenly have much more work to do, but things will go back to normal once the month is over. Rather than hiring someone and needing to let them go a few weeks later, businesses can work with a temp agency to make temporary hires.
This also benefits the employees, as some people may not want to make a long-term commitment to an employer. A temp agency ensures that both the employer and employee know and are happy with the conditions of their relationship.
They also help employers find reliable talent quickly, and making decisions through a third party helps prevent hiring people who won't pull their weight. If you encounter a temp you believe could be a good long-term fit, you may have the option to hire them full-time.
Executive Search Agencies
Executive search agencies specialize in filling upper-level or management positions. Hiring a high-level position entails much higher stakes than entry-level or mid-level roles, as their salaries are much higher and they exert a larger impact on the organization.
To help ensure a successful hiring decision, many businesses outsource executive recruiting to the professionals. Executive search agencies deal exclusively with highly qualified candidates and have specialized knowledge about hiring a great leader.
Niche/ Specialist Agencies
If you need to hire someone with a very particular set of skills, niche agencies are a huge asset. Any bad hire can significantly cost your business, but the risks become even higher in specialized industries such as tech, engineering, construction, or education.
Niche agencies ensure new hires have the experience and technical knowledge to succeed, granting employers peace of mind and saving time on both recruiting and training.
How Do Hiring Agencies Operate?
There are pros and cons to using recruitment agencies, but how exactly do they work? This section dives into the steps of the process from the recruitment agency's side to give you a better understanding of what you're hiring someone to do.
The Client Engagement Process
After making the decision to collaborate with a recruitment agency, reach out to them to arrange an initial meeting. During this meeting, you can discuss your job requirements, expectations, and the desired number of employees.
It is crucial to communicate your company's requirements and the timeframe for hiring new staff effectively. By inviting a recruitment representative to visit your company's office or typical workplace, they can gain a deeper understanding of your company culture and identify individuals with the highest potential for success.
For employers and recruitment agencies to collaborate, they must first develop a relationship. Employers need a recruitment agency to be affordable, collaborative, and consistently produce good results.
From the perspective of the recruitment agency, they need to understand client requirements, job descriptions, and desired candidate profiles. Cultural fit is a large aspect of a successful hiring decision, so it's not enough to just find the most qualified candidate for a role.
Recruitment agencies also need to develop an understanding of what makes employees of their client's organization successful and look for those same soft skills and competencies in the applicant pool.
Sourcing and Screening Candidates
Recruitment agencies use the same methods to source candidates as internal recruiters. These include advertising, database search, networking, and contributing to a talent marketing strategy.
Once they've gathered an applicant pool, recruiting agencies begin conducting candidate screening, including resume/CV reviews, interviews, and reference checks.
Especially during this stage, it is essential that recruiting agencies have a clear picture of what the employer is looking for in a top candidate. Otherwise, they may not select the same candidates to move forward as the employer would have chosen.
Agency recruiters will then contact several candidates for interviews, allowing them to ask candidates some questions and assess their fit. At this stage, recruiters will also share relevant information about your company with candidates.
After narrowing the list of candidates, recruiters will share them with the employer for review.
Matching and Presenting Candidates
After an initial round of screening or interviews, recruitment agencies identify a shortlist of candidates they believe could be a good fit for the role.
They will present this list to the employer, answer any of their questions, and help arrange final interviews with those candidates selected by the employer.
Depending on the employer's wishes, the external recruiters may or may not participate in the final round of interviews. Either way, once the employer makes a final decision, the recruiters will take back the reigns and begin coordinating the hiring process.
Managing the Hiring Process
Hiring is especially challenging because it involves a lot of coordination between several steps of the staffing process.
An external recruitment agency can make life much easier for employers by taking care of the administrative aspects of hiring. This includes offer negotiation, onboarding paperwork, tax forms, and setting up a payment method.
If you choose to outsource these steps of the hiring process, it is vital to maintain a high level of communication between the agency, candidates, and clients to ensure employers and new hires are satisfied with the agreement.
Many recruitment agencies will also maintain contact with both clients and candidates after placements to make sure parties still feel they are a good fit.
Ethical and Legal Considerations
The right recruitment agency can also help create ethical hiring practices and ensure compliance with relevant employment laws and regulations. Recruitment agencies enforce client confidentiality, data protection, and non-discrimination in the recruitment process.
This is similar to hiring a professional to do your taxes — you could definitely figure it out yourself, but hiring a professional is easier and brings peace of mind that everything is done by the book.
Conclusion
Hiring a recruitment agency might not always be necessary, but it will undoubtedly make recruiting less stressful.
Hiring great employees is vital to the health of your business and will maintain high employee morale, so bringing on a professional team of recruiters is often worth the investment.
There are many different kinds of recruitment agencies to choose from, so rest assured, there is an option available that can provide exactly what your business needs to thrive.
FAQs
Are recruitment agencies only for permanent positions?
Recruitment agencies can help fill permanent positions, but they handle many other employment opportunities as well, including permanent, temporary, contract, and part-time positions. Recruitment agencies cater to the specific needs of employers. Though they may specialize in certain types of placements or industries, most recruitment agencies can handle a wide range of hiring needs. 
Can I apply directly to a company if they are working with a recruitment agency?
While some companies accept direct applications, if a company is working exclusively with a recruitment agency for a particular job opening, it is generally advisable to apply through the agency. If the agency is facilitating the hiring process on behalf of the employer, candidates may have more success applying directly to the people screening candidates and presenting them to the employer. 
How confidential is the recruitment process with an agency?
Recruitment agencies prioritize confidentiality and handle candidate information with care. They typically seek candidate consent before sharing their details with employers and maintain strict privacy measures to protect sensitive information throughout the hiring process.
What if I am not satisfied with the service provided by a recruitment agency?
If you are not satisfied with the service provided by a recruitment agency, it is recommended to communicate your concerns to the agency directly. They may be able to address your issues, provide additional support, or reevaluate their approach. If necessary, you can explore alternative agencies that better align with your needs.
Can recruitment agencies help with career advice and development?
Yes, some recruitment agencies offer additional support beyond job placements. They may provide career guidance, resume/CV improvement tips, interview coaching, and insights into industry trends. They can also help candidates identify areas for professional development and suggest relevant training or educational opportunities.